Three years ago, Oregon played a Jeff Tedford coached Cal Golden Bears squad that gave Oregon its toughest match-up in their run towards the BCS Title game. During the game, Aaron Tipoti was instructed to fake an injury on at least one, very obvious, occasion by assistant Tosh Lupoi.
Many fans round Oregon felt as if Tedford had used Lupoi as a scapegoat; that the game plan and idea was Tedford's with the plausible deny-ability was there for the taking and he took it to save his own reputation. After all, Lupoi was young and his career would surely not suffer in the long run if the balme were laid at his feet.
Tedford was right. But that may have been the last time he was right. His desperation to get back ahead of Oregon ultimately led to more than just that poor decision. The losses mounted and he was fired following the 2012 season.
After that ill-fated game, Chip Kelly used no excuses. He has even gone on the record to say he would "never accuse anyone of faking an injury." He simply gave credit to the Cal defense and their game plan for their effort against the Ducks.
Steve Sarkisian later hired the same defensive line coach who admitted to ordering Tipoti to take a dive to slow down the Ducks.
This past weekend, in a twist of irony, saw Sarkisian accusing his opponent, the Stanford Cardinal of the same tactic his own defensive line coach had used three years ago.
The Huskies have been attempting to mimic Oregon's tempo on offense this year and have had varying degrees of success. They have definitely upped their total yardage numbers, but have not had a very big impact on their scoring average. Nonetheless, they have run more "hurry-up" offense this year.
Stanford's injuries happened during drives where Washington had developed a rhythm. Were they faked? I cannot say yes or no to that as I was not there, but the game I saw on television suggested that they were legitimate injuries. Was there maybe some overacting during the time? Sure. The players sold their injuries.
I did see this photo: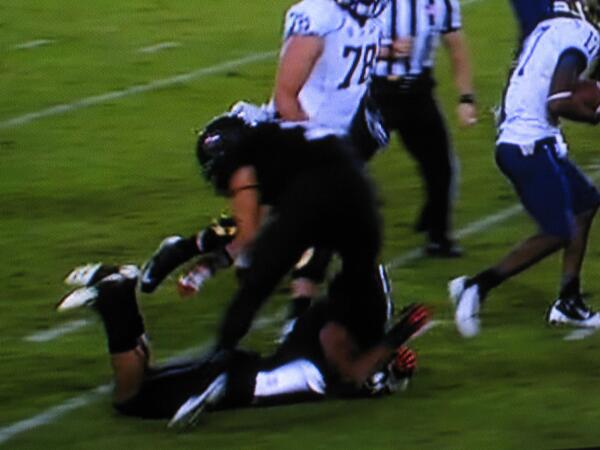 That is Shane Skov getting hit in the knee by linebacker James Vaughters of Washington. This is the play Skov went to the turf grabbing his knee. Looks pretty legitimate to me. The fact that he returned a couple of plays later speaks nothing to the reality of the moment; only that it was not as bad as thought.
But, you know what, I have no real problem with fans talking about the issue. it's relevant to them and worth the conversation.
Unfortunately, Steve Sarkisian did not try to mimic everything from Chip as he went into the press conference guns blazing making specific accusations against specific coaches.
This is bad for business. Giving your players excuses for a loss is not how you build character; it's how you destroy chemistry. The game was not lost because of an injury timeout for Shane Skov or Ben Gardener. It was not lost on an incomplete fourth down pass late in the game.
This game was lost on special teams and a lack of discipline.
Sarkisian's team is the most penalized in the conference. Penalties killed the Huskies Saturday. Stanford returned one kickoff for a touchdown and another to the 19 yard line scoring three plays later.
Both are from a lack of discipline.
That is the lesson Sarkisian should have been teaching his team. Instead he lost twice on Saturday night. It remains to be seen how much the second loss will linger.